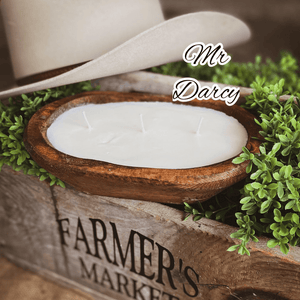 Oh Boy! Do we have the perfect Father's Day Scent for you?  Perhaps you have a man in your life who doesn't like your candles scent choices.  Here's your chance to branch out and give this one a try.  JUST FOR HIM!
Mr. Darcy...A beautiful outdoorsy scent.  Okay, imagine Mahogany Teakwood with a touch of sweet tobacco, smoky, vanilla!  
3 wick, brown dough bowl candle.